+86 21 51012729
+86 21 51685837
info@bbotech.com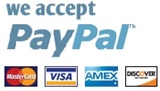 KD*P Pockels Cells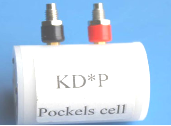 KD*P Pockels cells are routinely used for Q-switching applications from the 400 nm to about 1100 nm. Most of commercial flash lamp pumped Nd:YAG lasers and low repetition rate DPSS Nd:YAG lasers are equipped with KD*P Pockels cell for laser cavity Q-switching.
Bluebean Optical's KD*P Pockels cells are made of the finest strain-free, highly deuterated KD*P crystal and have high laser power resistant dielectric AR coatings. Our KD*P Pockels cells exhibit high extinction ratio(>1000:1), high transmission(T>98%) and high damaged threshold(>500MW/cm2).
KD*P Pockels cells Applications:
- Q-switching of the laser cavity
- Cavity Dumping
KD*P Pockels cells Specifications:
Crystal Material

Finest strain-free KD*P

Aperture Diameter

8.0mm

10.0mm

12.0mm

13.5mm

Outer Diameter

25.4mm

25.4mm

30.0mm

30.0mm

Quarter Wave Voltage@1064 nm

3.4KV

Extinction Ratio @ 1064 nm

> 1000 : 1

Transmission

> 98 %

Repetition Rate

<100kHz

Damage Threshold

> 500 MW /cm2@1064 nm,10 ns

Wavefront Distortion

< λ/8

Capacitance

7 pF
Note:
* Customized KD*P Pockels Cells are available upon your requests.
* Specifications are subject to change without advance notice.