+86 21 51012729
+86 21 51685837
info@bbotech.com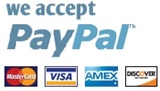 Products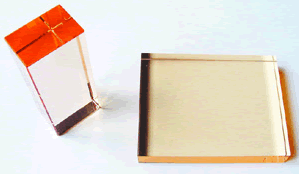 Yb3+ doped glass materials are desirable for generation of ultrashort pulse and as tunable laser sources because of their broad absorption and emission bandwidths.
Bluebean Optical mainly offers two types of Yb3+ doped glasses-YP1 and YB1.
YP1 glass: is a Yb3+ doped phosphate laser glass. This glass has long lifetime and nearly zero temperature coefficient of optical path length. Fluorescence lifetime is over 2ms. YP1 has the temperature oefficient of optical path length of 0.42×10-6/ºC.
YB1 glass: is a Yb3+ doped borate laser glass. This glass exhibits a low thermal expansion coefficient and a negative temperature coefficient of refractive index, resulting in acceptable behavior. YB1 has a high Cross section for stimulated emission of 1.65×10-20cm2.
Yb3+ doped laser glass Properties:
| | | |
| --- | --- | --- |
|   | YP1 | YB1 |
| LASER PROPERTIES | | |
| Yb2O3 (wt%) | 16.1 | 13.75 |
| Yb3+ conc. (1020ions/cm3) | 14.51 | 16.8 |
| Cross section for stimulated emission(10-20cm2) | 1.30 | 1.65 |
| Fluorescent lifetime(usec) | 2200 | 850 |
| Fluorescence half-line width at 290ºK(Å) | 506 | 518.8 |
| Center lasing wavelength(nm) | 1053 | 1053 |
| OPTICAL PROERTIES | | |
| Non-linear refractive index coeff.n2(×10-13e.s.u) | 1.48 | 1.96 |
| n (1053nm) | 1.52123 | 1.645 |
| nd | 1.52958 | 1.6649 |
| nF | 1.53517 | 1.6721 |
| nc | 1.52691 | 1.6602 |
| Abbe value | 64.1 | 58.42 |
| dn/dT (10-6/ºC) (20~100ºC) | -5.3 | -0.8 |
| Coeff.of linear thermal expansion (10-6/ºC) (20~100ºC) | 10.8 | 6.5 |
| Thermal coeff. of optical path length (10-6/ºC) (20~100ºC) | 0.42 | 3.5 |
| THERMAL PROPERTIES | | |
| Transformation temp.(ºC) | 430 | 609 |
| Softening temp.(ºC) | 473 | 650 |
| Coeff.of linear thermal expansion (10-6/ºC) (100~TgºC) | 12.8 | 7.6 |
| OTHER PROPERTIES | | |
| Density (g/cm3) | 2.95 | 3.99 |
| Chemical durability | excellent | excellent |
YP1 transmission: